Dallas Website Design and SEO
Dallas Area SEO Expert and Website Designer Near You.
Hi, I can help your business get a website ONLINE NOW.
In most cases your website will be online in UNDER 3 weeks!
I will ensure that your business gets online without the long term worry about maintenance hours and fees because monthly service request are built into your project details from the beginning.
Call me now!
Does My Service Work For Everyone? The Answer Is No.
You will NOT benefit from my services if you're:
⋅ A Start-Up Business Who Can Not Afford $1,260 to Start This Solution.
⋅ A Real Estate Agent.
⋅ Not Ready To Complete This Project Promptly.
HOWEVER, YOU WILL BENEFIT FROM THIS SERVICE IF:
⋅ You Know You're Losing Business By Not Being Online.
⋅ You Believe In Sales Pages And Sales Funnels.
⋅ You're Ready To Let Me Takeover This Project So You Can Concentrate On Your Business!
CALL ME AND LET'S GET STARTED.
If you're ready to start this project and want to look as professional as your business IS -then call me today.
(714) 227-3055
I'm your Dallas/DFW area website designer and Search Engine Optimization (SEO) Local Expert.
You Wont Find
Another Dallas/DFW Website Design Offer Like This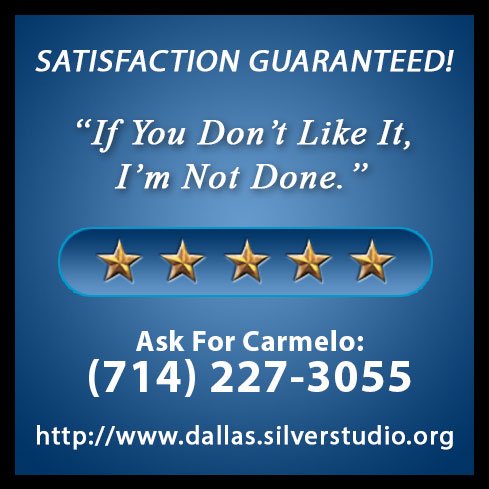 In just two days,
tomorrow will
be yesterday.
Don't Wait Any Longer.
Dallas/DFW Website Design & SEO -CALL NOW!
OR send me an email to: Carmelo@SilverStudio.org
I won't waste your time, or mine. 🙂
ASK FOR: Carmelo
(714) 227-3055